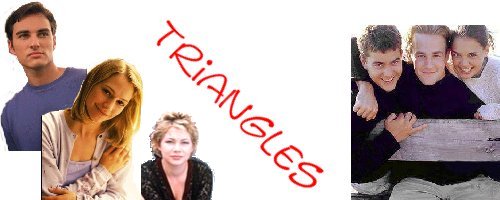 ---
Our Town: By Laura
It's over between Dawson and Joey, and now everyone has gone there own way. But when Pacey, Joey, and Dawson all go back to Capeside for a class reunion, what happens?
Part One: Our Town
Homeward Bound
Affliction
A Simple Plan
Close Encounters
Gangway to Tomorrow
Part Two: Circle of Friends
Big Night
Your Friends & Neighbors
Dance With Me
From Dusk Till Dawn
Between Two Worlds
Ending: Pacey and Joey: Enemies, a Love Story(please note that there is a Dawson/Joey ending here)
48 Hours
To Have & Have Not
Tender Mercies
Let It Come Down
Life is Beautiful
Epilogue
---
The Object of My Affection: By Laura
This is more like a love um...*counts on fingers*..hexagon. Yeah. A must-read!!
Warning: This story contains adult content. If that offends you and you read it anyway, it ain't my fault.
Inspiration
Helping Hands
In the Heat of the Moment
Hold Onto the Night
No One Is to Blame
---
Wanna submit a story? Click here.