Pacey/Joey Stories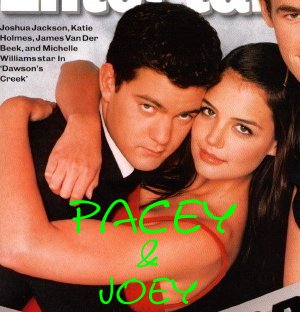 ---
Adventures in Atlanta-by Jade
Joey and Pacey go on a trip to Atlanta for five days...can they survive eachother? Or will their relationship take a drastic turn? Rated PG-13 for language
---
Garden Of Eden-by Bitsy
Pacey and Joey meet in an unlikely scenario on a trip to The Garden Of Eden.
WARNING: This story contains adult content. If you are offended by that and you read it anyway, it ain't my fault.
Chapter One
Chapter Two
Chapter Three
Check back soon for more chapters! (The story is done, but I haven't uploaded all of the files to my directory)
---
Pacey and Joey The Series: By Laura
A story of choices and true love.
Dazed and Confused
Untamed Heart
Bright Lights, Big City
Adventures in Babysitting
Change of Heart
People Will Talk
The Matchmaker
Sense & Sensibility
Field of Dreams-NEW!
---
See You In Eternity: By Ainsley
Pacey and Joey a "married" for a school project, and they must take care of an egg. What will happen?
Part One
Part Two
Part Three
Part Four
Part Five
Part Six-NEW!
---
Something to Talk About: By Ainsley
Pacey and Joey's relationship takes a turn for the better, but it's a bumpy ride.
Something to Talk About
Reality Bites
Friends, Lovers, and Lunatics
Joker is Wild
Weapons of Mass Destruction
When Hell Freezes Over
Unforgiven
C'est la Vie
The Unopened Letter
Romeo Is Bleeding
Less Than Zero
The Opposite of Love
Forget Paris
Pocket Full of Miracles-NEW!
Some Kind of Wonderful-NEW!